I was delighted to receive confirmation from our Customer Services team that our service satisfaction exceeded pre-lockdown levels in May and June. Over 90% of customers have scored us as 'good' or 'excellent'.1
We're seeing great examples of customer service from providers and advisers across the industry during the pandemic. In our core business - providing cover and paying claims – we've all responded well to the new working environment. We've been here for our customers at their time of need. We're proud of that. What's equally rewarding is the support we're providing customers long before they reach the claim stage.
Many of us are dealing with the added pressures of working from home, social distancing and home education. As a parent I can empathise with all those who are missing the support of close friends and family who normally do so much to help. We recognised this as a business too. We knew our customers needed reassurance and support during these challenging times.
Regular followers know that as an industry we want to offer practical wellbeing support to all our customers – be they insured by their employer or buying individual protection - throughout the lifecycle of their policies. We have a moral responsibility to do more than just pay claims should the worse happen.
Right now, that must surely mean supporting customers with their mental health and personal resilience. That's why I was pleased to see so many joining our recent webinars: a mental health toolkit for managers and a stress resilience toolkit for employees.
Mental Health

toolkit for managers

 

Shows managers how to spot the early signs of mental health problems and support mental health in the workplace. It helps them make changes to the way they support their staff early on.

Stress Resilience

toolkit for employees

 

Shows employees how to spot the early signs of negative stress, develop self-help tools and take practical steps to build their personal resilience. Tools which will help them improve their own wellbeing.
The results speak for themselves: managers' ability to support mental health conversations and the mental health of others, plus employees' ability to manage their own stress levels all rose by 20% after taking part in the webinars.2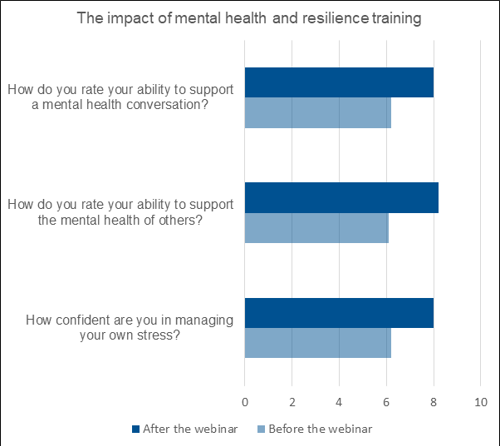 At Canada Life, we've enhanced our wellbeing support during the lock down. We launched WeCare to all our Group Protection CLASS customers at no additional cost. The WeCare solution offers 24/7 access to a virtual GP, 10 virtual face-to-face sessions with a psychologist to support mental health. In addition it offers a suite of personalised wellbeing programmes including smoking cessation, get fit and even a dietary/nutrition programme where you engage one-on-one with a qualified nutritionist.
Our Individual Protection customers are bring supported through a suite of wellbeing articles relating to family relationships, home working and schooling or supporting vulnerable relatives during the lockdown. It's all available through their Canada Life Apps. Plus there's our PersonalCare3 counselling service for those who are finding things particularly difficult.
Our industry does a great job of supporting our customers at their time of need, usually when they fall ill or sadly die. It's also really encouraging to show the benefits we can deliver through holistically supporting health and wellbeing, especially during times like these.
Dan Crook is Director of Sales, Protection, Canada Life
1 Canada Life MI, Jan-June 2020
2 Canada Life MI, based on four mental health / resilience webinars run in April and May 2020 for 1,386 customers in response to the Covid-19 pandemic.
3 PersonalCare is provided free of charge with Canada Life's Life Insurance plus Critical Illness policies