Bulk purchase annuity
Protect your members and reduce your liability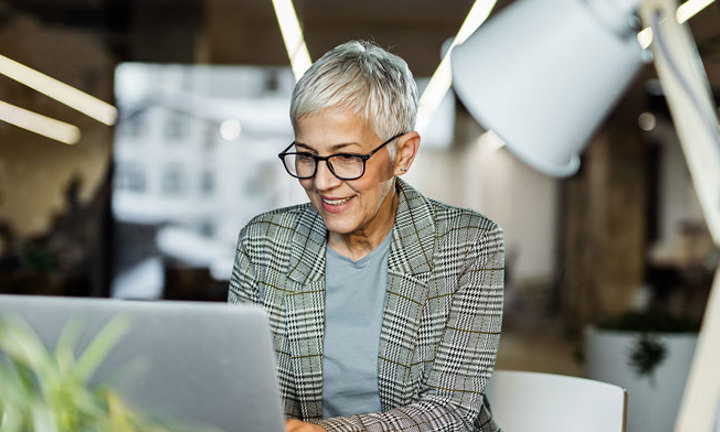 Here's everything you need to know about our bulk annuities service. How it works, the services we provide and the benefits.
Our bulk annuity service
Our team specialise in de-risking pension plans, helping to provide security for members and reducing your liability. We have extensive experience in bulk annuities and have the data needed to appropriately price longevity risk.
We create bespoke solutions, whatever size your scheme. From small schemes of less than 20 members to larger schemes with over 2500 members. 
Each new bulk annuity purchase is given a dedicated Scheme Implementation Consultant to ensure a smooth transition process.
Buy-in and buy-out solutions
Buy-in 
Our buy-in service supports trustees and sponsoring employers who want to provide long-term security for scheme members.
How it works
A buy-in allows you to protect your pension scheme from investment, inflation and longevity risks. We make regular payments into the scheme to meet monthly pension payroll needs.
The relationship between your pension scheme and its members stays the same - the scheme continues to pay the benefits and we have no direct relationship with members.
Buy-out
Our buy-out service is for trustees who want to settle their pension liabilities.
We take over responsibility for the liabilities bought out by the pension scheme, removing the associated risks from the sponsoring employer.
How it works
Members of the scheme are issued individual policies by us and we become responsible for the pensioner payroll and member administration. Where a full scheme buy out takes place, the pension scheme can then be wound up by the trustees.
Committed to the market Bulk annuities expertise


Bulk annuities from one of our key strategic product lines as at July 2023.
Our solid financial organisation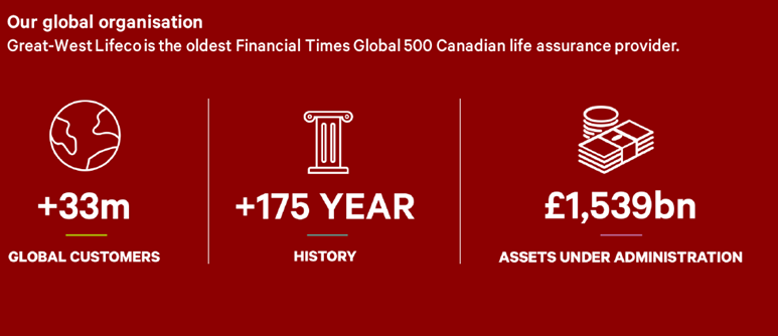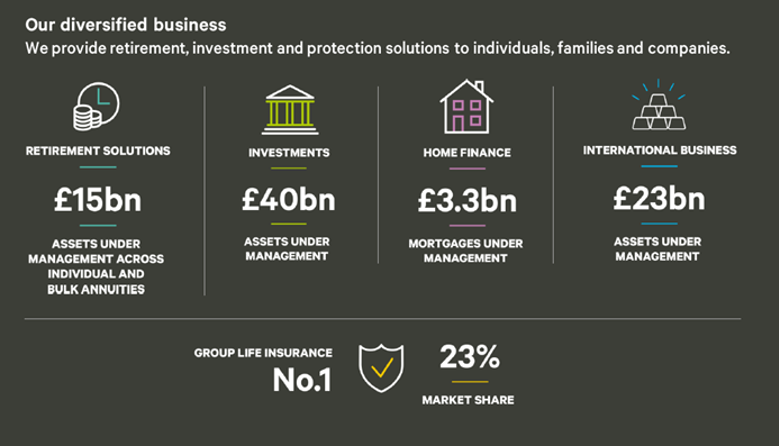 Accessed February 2023, as at December2022
First-class service and support
Customer Services team
The team offers:
Experience in dealing with high volumes of new annuity business
A dedicated Scheme Implementation Consultant to provide a smooth transition for each pension plan 
Risk assessments on new schemes
A staged checking process
A Controls and Customer Experience Team who monitor overall controls and quality
The team also carries out:
Monthly, quarterly or annual reconciliations, including those following an annual escalation increase
Processing death claims, including death benefit lump sums and setting-up benefit payments
Quarterly existence exercises using LexisNexis
Updates to member records, following data verification
Governance and controls
Our Controls and Customer Experience Team monitors the overall controls and quality. 
They perform:
Risk assessments on new schemes – risks and controls are documented and gaps addressed 
A staged checking process and validation
Your dedicated scheme consultant
Our Scheme Implementation Consultant works with you on a day-to-day basis to ensure all your needs are met. They:
Co-ordinate with our legal, customer services, pricing and investment teams, scheme administrators and the employee benefit consultants
Seek to fully understand your scheme, working with you from initial quote to the signing of the terms
Continue to offer ongoing support on data verification, future tranches and any potential buy out
Investment management and strategy
Investment management 
Our asset management team has a record of sourcing attractive assets, which allows us to offer competitive pricing to our clients and customers. 
Investment strategy
We seek to hold a portfolio of assets that's well-diversified across asset classes and industries 
We offer sovereign and corporate bonds, commercial mortgages, finance leases, private placement loans and property
We adopt a long-term outlook. High quality investments are made and held to maturity 
Insurance liabilities are tightly matched with cash-flow to help reduce interest rate and inflation risk 
We look to maximise yield with a level of risk that's right for our clients and reflect this in our pricing
We always maintain an appropriate level of liquidity to allow us to comfortably meet our operational needs
Our legal team
Our expert team have agreed bulk annuity contracts with a number of clients including:
Gowling WLG
TLT 
Sacker & Partners 
Pinsent Masons 
Squire Patton Boggs 
Shepherd and Wedderburn 
Travers Smith 
Norton Rose Fulbright
The team adopt a flexible approach when finalising terms, including conference calls and face-to-face meetings. It takes around three weeks to complete a contract, from initial comments to signing the policy conditions.
*Promotion approved: 13/10/23