As lifetime annuities increase in popularity off the back of recent high rates, Canada Life has suggested there is an alternative to consider if a client is looking for income security but for a shorter period, fixed-term income plans.
Fixed term income plans offer a guaranteed regular retirement income for a set period, between one and 20 years, with a guaranteed maturity value (if selected) alongside death benefits. Although these plans are written under drawdown legislation, they have also benefitted from the same significant improvement in rates as lifetime annuities.
Nick Flynn, retirement income director at Canada Life commented:
"Fixed term income plans offer a 'third-way' for clients seeking income security but not looking to lock into a lifetime annuity now. While we continue to face economic headwinds and the uncertain future for generating reliable retirement incomes off the back of drawdown portfolios, these plans have a role to play in delivering the certainty clients seek.
"While annuity rates have come off the highs we experienced after the mini-Budget, they are still up 43%1 from the start of last year, and fixed term income plans have also benefitted and now offer significantly better returns with the certainty of guaranteed maturity values. They should be part of any consideration around retirement income plans."
Some reasons why would a client consider a fixed-term income plan?
security, offering an income 'bridge' between retirement and state pension age
client is not keen on locking into a lifetime annuity at this point, but wants security over income for the term of the plan and flexibility over any future decision
client doesn't qualify for enhanced lifetime annuity rates today (no health or lifestyle to declare) but thinks they may in the future
note that once the plan is set up any income and/or maturity value is set for the term of the plan and cannot be changed
An example Fixed-term income plan
| | | | |
| --- | --- | --- | --- |
| Purchase price for 10-years | Yearly income | Guaranteed maturity value | Guaranteed income |
| £100,000 | £5,000 | £93,818 | £50,000 |
| £100,000 | £12,279 (max income) | £0 | £122,790 |
Source: Canada Life rates, as at 01/05/20232
How lifetime annuity rates have changed over time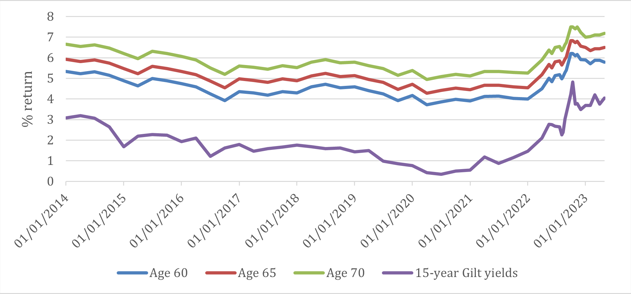 Source: Canada Life annuity rates over time, as at 01/05/20231
ENDS
Enquiries:
Press enquiries should be directed to:
Elle McAtamney at Canada Life, elle.mcatamney@canadalife.co.uk
Notes to editors:
Source: Canada Life benchmark annuity rates over time, £100,000 purchase price, 10-year guarantee, no health or lifestyle factors. 15-year gilt yields sourced from ft.com.
Source: Canada Life Fixed Term Income Plan quotes as at 01/05/2023. Single life, £100,000 purchase price, customer aged 65.
About Canada Life:
Canada Life is part of a group of companies controlled by Great-West Lifeco Inc., a diversified financial services holding company headquartered in Winnipeg, Canada. Through its subsidiary companies, Lifeco has operations in Canada, the United States, and Europe. Great-West Lifeco and its insurance subsidiaries have received strong ratings from major rating agencies.  Great-West Lifeco has over 38 million customers worldwide and £1.532trillion assets under administration (as at 31 December 2022).
Canada Life Limited began operations in the United Kingdom in 1903 and looks after the retirement, investment and protection needs of individuals and companies alike. As well as providing stability and security through its individual contracts, Canada Life Limited has grown to become the leading provider of competitively priced group insurance solutions. Canada Life acquired Retirement Advantage on 3rd January 2018 for an undisclosed sum. The acquisition added over 30,000 retirement income and equity release customers and more than £2 billion of assets under management including a £1.5 billion block of in-force annuities to Canada Life.
Canada Life Limited is authorised by the Prudential Regulation Authority and regulated by the Financial Conduct Authority and the Prudential Regulation Authority. Canada Life International Limited and CLI Institutional Limited are Isle of Man registered companies authorised and regulated by the Isle of Man Financial Services Authority. Canada Life International Assurance Limited and Canada Life International Assurance (Ireland) DAC are authorised and regulated by the Central Bank of Ireland.