New research1 from Canada Life reveals that despite the significant improvement in annuity rates experienced over the past 18-months2, only 14% of 50+ year olds who are at least fairly familiar with annuities consider them to currently offer a good rate. Just 3% consider them to currently offer a very good rate. In fact, 50+ year olds are more likely to say that annuities currently offer a poor rate of return compared to the long-term trend than they are to say that they offer a good rate of return (21% vs 14% respectively).
What makes a 'good' annuity return?
Half of 50+ year olds (53%) who are at least fairly familiar with annuities consider an annuity rate of anything above 4% 'good'. By comparison, a quarter (26%) will only consider annuity rates 'good' once they reach above 7%. Two in five (43%) over 50s say they don't know if annuities offer a good or poor rate of return.
Today, a benchmark annuity for someone aged 65, with no pre-existing health or lifestyle conditions, would pay in the region of 7%2. This annuity rate can increase significantly when disclosing common health or lifestyle conditions, such as diabetes, high blood pressure or being a smoker. Age can also have a big influence on the annuity rate offered.
Nick Flynn, retirement income director at Canada Life comments on the research:
"Annuities have been on a roll with rates increasing significantly over the past 18-months, at one point up by nearly 50%. This is a remarkable shift in fortune in a very short space of time for annuity rates and therefore they need more than a cursory glance when choosing your path to deliver your retirement income.
"Our data shows that consumers have not yet caught up with the rapid rate improvements.  Do your research, consult a qualified financial adviser or experienced annuity broker, and consider all your options, it doesn't have to be an either-or approach to retirement income. Often, a blend of drawdown and annuity can provide a better retirement solution. Although annuities are the only game in town that can deliver 100% security and peace of mind of a guaranteed lifetime income, whatever life throws at you."
How lifetime annuity rates have changed over time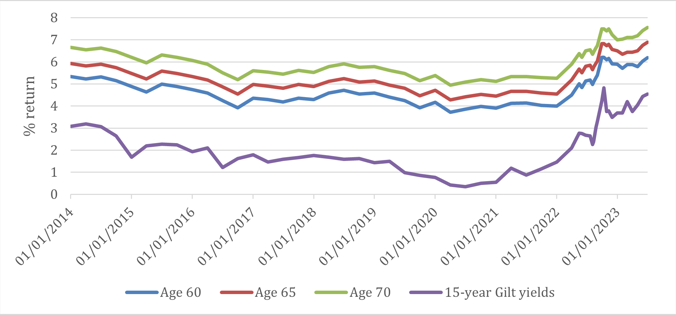 Source: Canada Life annuity rates over time, as at 01/07/20232
ENDS
Enquiries:
Press enquiries should be directed to:
Elle McAtamney at Canada Life, elle.mcatamney@canadalife.co.uk
Notes to editors:
Source: Research among 2,000 UK adults, of which a representative sample of 955 were aged 50 and over, with 383 of those aged 50+ at least fairly aware of annuities - fieldwork conducted by Opinium between 28th April 2023 and 2nd May 2023.
Canada Life benchmark annuity rates over time, £100,000 purchase price, 10-year guarantee, no health or lifestyle factors. 15-year gilt yields sourced from ft.com.
About Canada Life:
Canada Life is part of a group of companies controlled by Great-West Lifeco Inc., a diversified financial services holding company headquartered in Winnipeg, Canada. Through its subsidiary companies, Lifeco has operations in Canada, the United States, and Europe. Great-West Lifeco and its insurance subsidiaries have received strong ratings from major rating agencies.  Great-West Lifeco has over 38 million customers worldwide and £1.532trillion assets under administration (as at 31 December 2022).
Canada Life Limited began operations in the United Kingdom in 1903 and looks after the retirement, investment and protection needs of individuals and companies alike. As well as providing stability and security through its individual contracts, Canada Life Limited has grown to become the leading provider of competitively priced group insurance solutions. Canada Life acquired Retirement Advantage on 3rd January 2018 for an undisclosed sum. The acquisition added over 30,000 retirement income and equity release customers and more than £2 billion of assets under management including a £1.5 billion block of in-force annuities to Canada Life.
Canada Life Limited is authorised by the Prudential Regulation Authority and regulated by the Financial Conduct Authority and the Prudential Regulation Authority. Canada Life International Limited and CLI Institutional Limited are Isle of Man registered companies authorised and regulated by the Isle of Man Financial Services Authority. Canada Life International Assurance Limited and Canada Life International Assurance (Ireland) DAC are authorised and regulated by the Central Bank of Ireland.