Over half of Brits (56%) agree the State Pension isn't generous enough
10% of 18-34's believe the State Pension is "too generous"
Opinion is also divided on what would make the State Pension 'fairer'
The UK state pension is dividing the population. The majority of over-55's (76%) feel it is not generous enough in contrast to younger age groups where only a third of 18-34's and a half of 35-54's agree with this statement. This is according to the latest research1 from Canada Life which found that 56% of the UK population felt the State Pension wasn't generous enough, with only 22% saying it's 'just right' and just 4% saying it is 'too generous'.
Canada Life then took three common suggestions to make the State Pension 'fairer' and asked 2,000 Brits to vote on whether they agree with it or not. These options include; means testing the income, using life expectancy to calculate income and having the option to claim the State Pension earlier at a reduced rate.
Using life expectancy to calculate the State Pension income was by far the least popular option with 61% voting against the idea. The most popular option amongst the UK public was to allow people to claim the State Pension earlier. Almost half (46%) of respondents were in favour of this even if it meant accepting a reduced rate. Mean testing the State Pension was also unpopular with only 27% voting in favour of the idea.
Andrew Tully, technical director at Canada Life comments:
"The State Pension is clearly a hot topic which can elicit a range of strongly held views and opinions. Understandably people will feel more protective and dependent on this retirement income as they get closer to being able to claim it, however the lack of confidence in the generosity of the State Pension amongst the over-55's is striking.
"Opinion, like the generations, appears to be divided on how to make the State Pension fairer. While allowing early access to the State Pension appears to have the greatest levels of support, it seems that the British public are certainly much clearer on what they do not support than what they're backing!"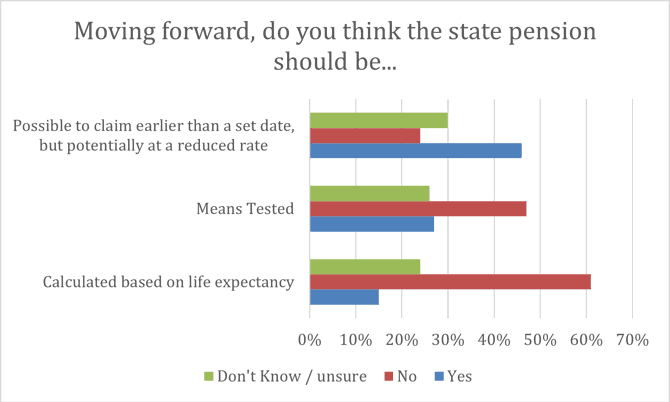 ENDS
Enquiries:
Press enquiries should be directed to:
Paul Keeble at Canada Life, 07833 085387, paul.keeble@canadalife.co.uk
Notes to editors
Source: Opinium research of 2,000 UK adults between the 7thand 10th August 2022
About Canada Life:
Canada Life is part of a group of companies controlled by Great-West Lifeco Inc., a diversified financial services holding company headquartered in Winnipeg, Canada. Through its subsidiary companies, Lifeco has operations in Canada, the United States, and Europe. Great-West Lifeco and its insurance subsidiaries have received strong ratings from major rating agencies.  Great-West Lifeco has over 30 million customers worldwide and £1.341 trillion assets under administration (as at 31 December 2021).
Canada Life Limited began operations in the United Kingdom in 1903 and looks after the retirement, investment and protection needs of individuals and companies alike. As well as providing stability and security through its individual contracts, Canada Life Limited has grown to become the leading provider of competitively priced group insurance solutions. Canada Life acquired Retirement Advantage on 3rd January 2018 for an undisclosed sum. The acquisition added over 30,000 retirement income and equity release customers and more than £2 billion of assets under management including a £1.5 billion block of in-force annuities to Canada Life.
Canada Life Limited is authorised by the Prudential Regulation Authority and regulated by the Financial Conduct Authority and the Prudential Regulation Authority. Canada Life International Limited and CLI Institutional Limited are Isle of Man registered companies authorised and regulated by the Isle of Man Financial Services Authority. Canada Life International Assurance Limited and Canada Life International Assurance (Ireland) DAC are authorised and regulated by the Central Bank of Ireland.
Stonehaven UK Limited, trading as Canada Life, is a subsidiary of The Canada Life Group (U.K.) Limited. Authorised and regulated by the Financial Conduct Authority. Registered in England and Wales. Registered number: 05487702. Registered office: Canada Life Place, Potters Bar, Hertfordshire EN6 5BA.