Group Critical Illness
Support your employees when they're unwell
We'll make a tax-free payment to your employee if they're diagnosed with a serious illness or condition covered by the policy. With our cover, your employees can focus on getting better without worrying about their household or medical bills.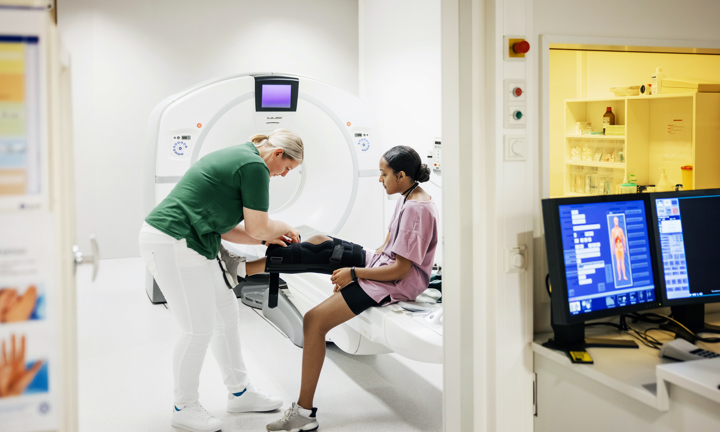 Discover the benefits of Group Critical Illness, including who we cover, what support you'll receive and how to apply.
About Group Critical Illness
This workplace benefit will make a tax-free payment to your employees if they're diagnosed with a serious illness – as long as it's one we cover. They'll qualify for the payment if they survive a set period of time as outlined by the terms of the policy.
As an employer, you can tailor this policy to your business needs. For example, you might choose to cover all permanent employees aged between 16 and 70.
Organisations we cover
We can cover a wide range of organisations, including:
Companies registered in the UK
Companies registered in the Channel Islands or Isle of Man
Branch offices of companies outside the UK, Channel Islands or Isle of Man, provided the branch is registered in the UK, Channel Islands or Isle of Man
Equity partnerships
Limited liability partnerships
Trade bodies, charities or any other legal entity
Employees we cover
We can cover most employees who work in the UK, including:
Permanent employees
Part-time employees
Directors
Zero-hour contract employees
Fixed-term contract employees
Temporary employees
Please get in touch if you want to cover employees that aren't on this list.
Illnesses we cover
Every policy includes 13 core illnesses:
Alzheimer's disease
Cancer
Cardiac Arrest
Coronary artery bypass grafts
Creutzfeldt-Jakob disease (CJD)
Dementia/pre-senile dementia
Heart attack
Kidney failure
Major organ transplant
Motor neurone disease
Multiple sclerosis
Parkinson's disease
Stroke
You can add a further 28 illnesses and conditions, including blindness, HIV and rheumatoid arthritis. See the full list of illnesses and conditions we cover.
You can also include cover for total permanent disability, which covers employees if they become permanently disabled.
Benefits we cover
Multiple of salary
As an employer, you can choose to cover your employees by a multiple of their salary – up to 10 times their salary. For example, if you chose to cover an employee earning £25,000 by a multiple of 4, their total benefit would be £100,000.
There's no maximum multiple, but an employee's total benefit is limited to £500,000.
Fixed benefits
You can set a fixed amount for all employees, regardless of their salary. For example, all of your employees could receive a fixed benefit of £50,000.
These benefits are limited to a maximum of £500,000.
Children's cover
We'll automatically cover your employees' children with every policy – free of charge.
If they're under 18 (22 if in full-time education), we'll cover them for 25% of the employee's benefit, up to a maximum of £20,000.
Optional benefits:
Partner cover
We can also cover your employees' partner.
These benefits can be a multiple of the employee's salary, or a fixed benefit. They're limited to £150,000 or the employee's benefit if that's lower.
Example policies
Here are two different examples of policies the employer could choose:
 
Policy one
Policy two
Eligibility
All permanent employees
Directors only
All other employees
Benefit
Two times salary
Four times salary
£50,000 (fixed benefit)
Illnesses covered
Core only
Core plus additional
Core only
Partner cover
Not selected
One times salary
Not selected
Choosing when cover starts
You can choose exactly who to cover and when their cover should start.
Age
You'll need to set minimum and maximum age limits. The minimum age we can cover is 16 and the maximum age is 70.
Entry date
This is the date employees join the policy. It can either be the day the employee joins the company or at a set time throughout the year e.g. the first of every month.
Minimum service
You can add a minimum service requirement, so that you only cover employees after a set period of employment. This is normally linked to your probationary period.
What support services are included?
For employee critical illness claims, a qualified nurse will provide practical and emotional support over the phone – for as long as they need it.
If your employee or their immediate family are facing a health problem, we offer access to over 50,000 leading consultants worldwide on diagnoses and treatments for almost any condition.
Getting a quote
To get a quote we'll need the following information:
Employer details
The benefits you want to include
What age the cover should end
What illnesses you want to cover
Cover details for individual employees (e.g. sex, date of birth, salary, occupation, work location, business travel)
We might need more information if another provider already covers the benefits.
Please send your quote request to: groupquotes@canadalife.co.uk