Group Income Protection
Protect your business from long-term illness and injury
Our cover provides financial and rehabilitation support if an employee is unable to work because of a long-term illness or injury. We'll pay you a percentage of their salary when they're off sick, and we'll help them return to work when they're better.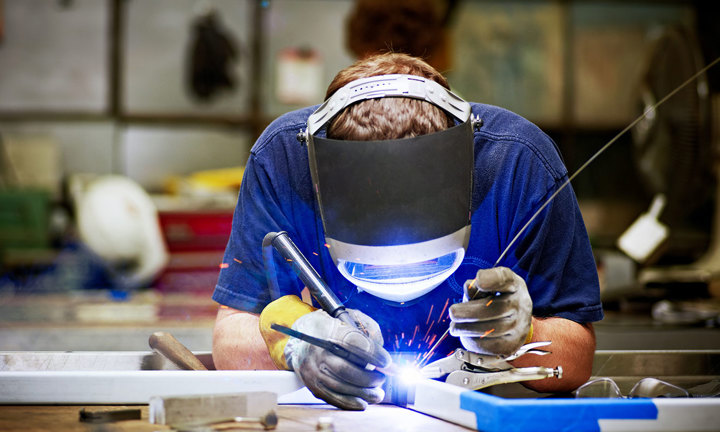 Discover the benefits of Group Income Protection, including who we cover, what support you'll receive and how to apply.
About Group Income Protection
Our insurance provides a replacement income if your employee is unable to work because of an illness or injury. Plus, we'll help your employees return to work with our rehabilitation support.
As an employer, you can tailor this policy to your business needs. For example, you might choose to cover all permanent employees aged between 16 and 70.
Organisations we cover
We can cover a wide range of organisations, including:
Companies registered in the UK
Companies registered in the Channel Islands or Isle of Man
Branch offices of companies outside the UK, Channel Islands or Isle of Man, provided the branch is registered in the UK, Channel Islands or Isle of Man
Equity partnerships
Limited liability partnerships
Trade bodies, charities or any other legal entity
Employees we cover
We can cover most employees who work in the UK, including:
Permanent employees
Part-time employees
Directors
Zero-hour contract employees
Fixed-term contract employees
Temporary employees
Please get in touch if you want to cover employees that aren't appear on this list.
Benefits we cover
Percentage of salary
We normally cover employees for a percentage of their salary. Most employers choose to cover their employees for 50% or 75% of their salary.
We'll start paying this benefit after they've been unwell or injured for a set period of time, known as the 'deferred period'. We can cover a range of deferred periods, from 13 to 52 weeks.
State benefits
We'll deduct any state benefits an employee might be entitled to, such as Employment and Support Allowance (ESA). Where this is covered, the income protection benefit will be a percentage of the employee's salary minus the state benefit.
Claim payment period
You can choose the length of time to pay a claim. This can be up until the maximum age the policy covers, or for a set period of time, such as two or five years.
Optional benefits
National Insurance contributions
We can cover an employer's National Insurance contributions for the amount of benefit insured.
Pension scheme contributions
We can also cover both employee and employer pension contributions. The maximum we can cover is 35% of the employee's salary, with a maximum contribution of 7.5% for the employee.
Example policies
Here are two different examples of policies the employer could choose: 
<td<td<td
 
Policy one
Policy two
Eligibility
All permanent employees
Pension scheme members
All other employees
Benefit
50% of salary
75% of salary
50% of salary
State benefit deduction
ESA
ESA
Not selected
Claim payment period
Five years
To maximum age
Two years
Deferred period
26 weeks
52 weeks
52 weeks
Pension scheme contributions
Not selected
10% covered
Not selected
National Insurance contributions
Not selected
Covered
Covered
Choosing when cover starts
You can choose exactly who to cover and when their cover should start.
Age
You'll need to set minimum and maximum age limits. The minimum age we can cover is 16 and the maximum age is 70.
Entry date
This is the date your employees join the policy. It can either be the day the employee joins the company or at a set time throughout the year e.g. the first of every month.
Minimum service
You can add a minimum service requirement, so that you only cover employees after a set period of employment. This is normally linked to your probationary period.
What support services are included?
WeCare provides an extensive range of virtual services delivering holistic support to improve the medical, mental, legal and financial wellbeing of today's employees. Available through a simple app, WeCare provides easy access to 24/7 GP consultations, mental health support, get fit programmes and much more.
Employers receive day-one absence management support from our dedicated helpline if an employee is off sick.
Employees can access 1000s of perks with discounts on everyday purchases, discounted cinema tickets, savings at their favourite restaurants, cashback and more.
If your employees or their immediate family are facing a health problem, we offer access to over 50,000 leading consultants worldwide on diagnoses and treatments for almost any condition.
These services are non-contractual benefits and can be altered or withdrawn at any time.
Getting a quote
To get a quote, we'll need the following information:
Employer details
What benefits they want to include
When the cover will end based on an employee's age
Cover details for individual employees (e.g. gender, date of birth, salary, occupation, work location, business travel)
We might need more information if another provider already covers the benefits
Please send your quote request to: groupquotes@canadalife.co.uk