But untapped opportunities exist for advisers to retain clients.
One in three (32%) homeowners aren't planning to go back to their current adviser when their fixed deal ends
Advisers benefit from opportunities to stay in touch as two in five (42%) homeowners haven't heard from their adviser since taking out their mortgage
Half (49%) of homeowners have had a change in circumstances since taking out their mortgage but 39% of those haven't updated their policies
Independent mortgage advisers face the risk of their clients drifting away, as a third (32%) of homeowners who organised a fixed deal through an adviser are likely to go elsewhere when the term nears its end, our new research reveals1.
Of those who intend to take a different route when their fixed rate mortgage ends, 15% will take out a new product directly with a bank or lender, 10% will review with a different mortgage adviser and 6% will take out a mortgage via a comparison website.
Two in five homeowners did not update their protection policies after a change in circumstances
With two in five (42%) homeowners saying their adviser hasn't contacted them to review their mortgage since taking it out, including 49% of people who have had a mortgage for over 10 years, advisers would benefit from opportunities to stay in touch with their clients.
One such opportunity lies within protection policies, often sold alongside mortgage products. Half (49%) of homeowners surveyed have had a change in personal circumstances since taking out their loan, but 39% of those did not update their protection policies. The nation is chronically under-protected, with the ABI estimating a protection gap in the UK of £2.6 trillion in 2012.
Common changes in personal circumstances include having a child (20%), a change in employment status (18%), developing a long-term health condition (10%) or an existing health condition worsening (9%) – all of which can impact the type and level of cover required.
Graph One: Changes in personal circumstances since taking out a mortgage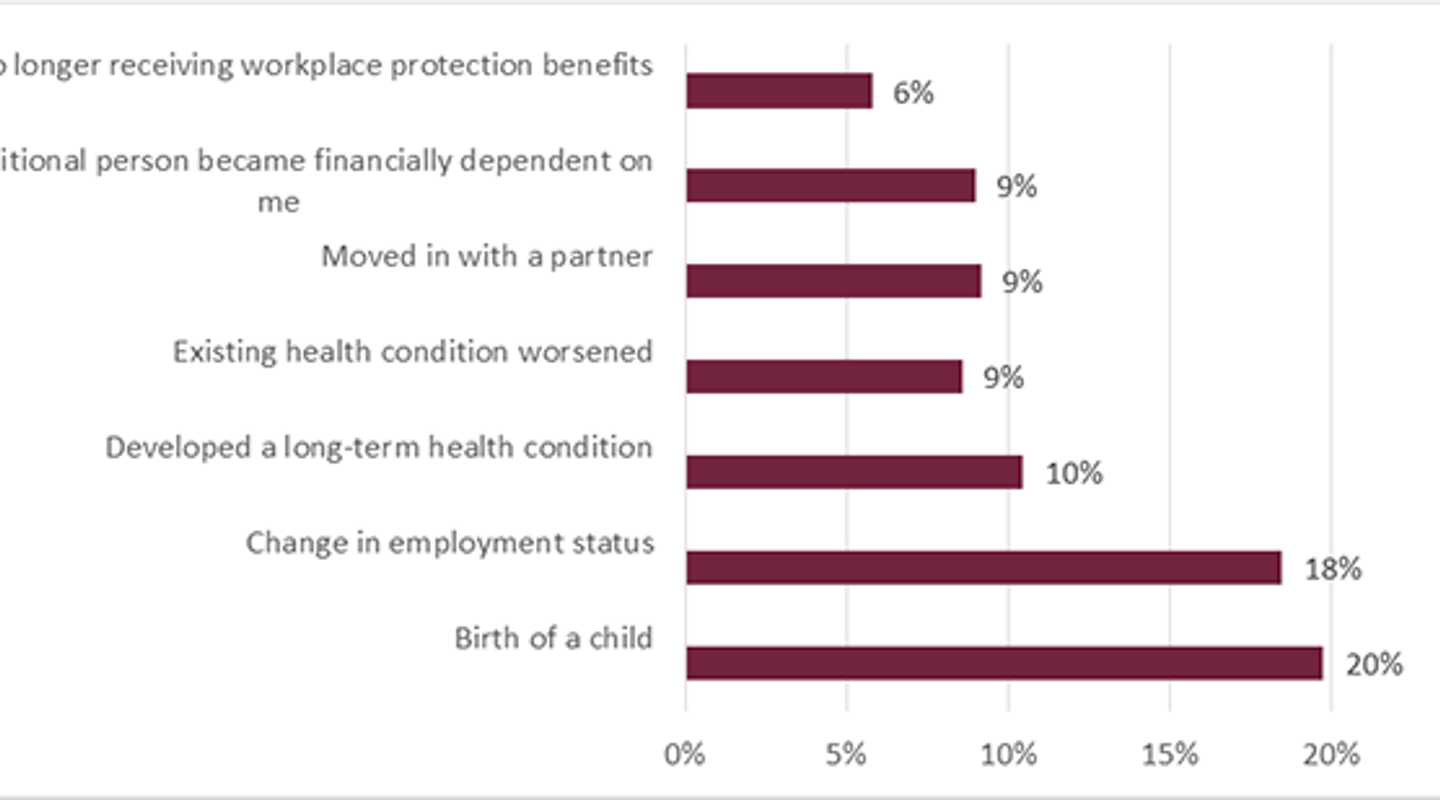 With 61% of homeowners saying they have had no contact from their adviser to review their protection needs since their initial meeting, and cover quickly becoming out of date as life progresses, advisers have an untapped opportunity to maintain contact and provide additional benefits to clients beyond advising on their mortgage.
Natalie Summerson, Head of Sales, Individual Protection comments:
"Our research has highlighted the importance of mortgage advisers remaining in regular contact with their clients, particularly as many customers will not necessarily feel the need to revisit their mortgage deal for a number of years after the initial meeting."With longer fixed term mortgage deals on the increase and nearly half of customers confirming their personal circumstances have changed since they took out their mortgage there should be plenty of opportunity for advisers to re-engage."We aim to give advisers the information and tools they require to start proactive, positive conversations with clients about their protection needs."

 

Mike Allison, Head of Protection at Paradigm Mortgage Services, says:

 

"Paradigm Mortgage Services has seen a major shift in the move to five year fixed rates from two year, to fit with both client affordability and prevention of uncertainty given the current economic climate. We see this as a key challenge to brokers in their own communication strategies, given the broadening of that gap by three years."We feel that brokers need to continue to reinforce their value, specifically related to the work they do to analyse the market for Mortgage and Protection Products before they make recommendations to their clients. In many cases those recommendations go beyond price and take a considerable amount of time and effort. Constant informative contact can make a huge difference to customer perception of what a broker does and can do for them, especially where lifestyle changes happen during that gap."One such area we are working on with Canada Life and others is the promotion of the added value support services such as Life Works and other Health and Wellbeing Services which can reinforce the differential value brokers bring to the party. We have seen huge uptakes in usage of these services where they have been correctly promoted and this can only help in the bonding of the move from a transactional to a relationship driven approach. This is not only vital for customer retention but also plays a part in driving better customer outcomes."



1 Based on research among 1,003 UK adults with a mortgage who took out their product with an independent adviser. Conducted in October 2019.